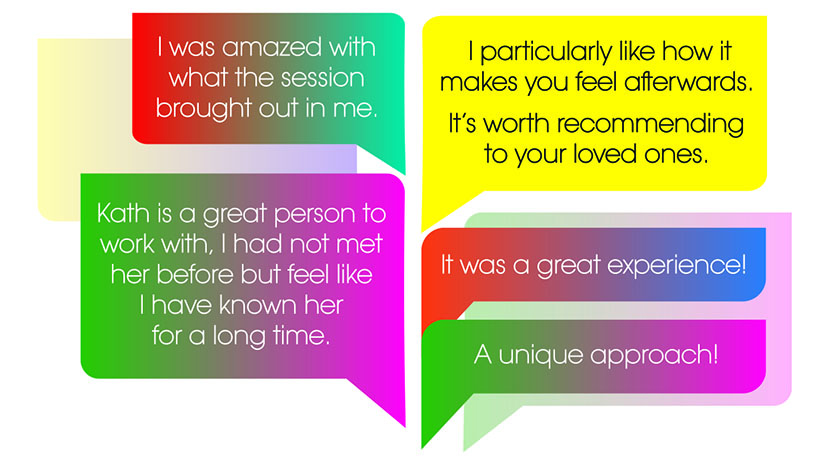 Here's what people have said after attending a Colouricity session…

"I can't thank you enough for the opportunity to participate in the wonderful workshop that you delivered last Saturday. It was probably the best thing I've ever done for myself!
As you know, the journey and guided exercises had a profound effect on me. The whole method and safe nurturing environment helped me to recognise and acknowledge things that I mostly hide and ignore.
Without a doubt, I feel lighter and brighter in myself. You've helped to put me on a path of self care which I am truly grateful for." March 2022.

"Very insightful" April 2022.

'Another wonderful session from Kath at Colouricity. The group loved learning about the positive
and healing effects of colour.' April 2022.

"I took part in a zoom session Kath delivered and it was a revelation. Through Kath's clever and unique way of using colours I gained an insight into myself and my way of seeing the world; how colour is a tool that we can use in our lives to access a method to enhance, or even help to change, our mood. Thoroughly enjoyed the session too!"

"I thoroughly enjoyed my experience with Kath at Colouricity. The activity we did really improved my mood and made me aware the colours I have found uplifting. Kath then did a reading from her colour cards which amazed me. I had not expected this but am grateful for the encounter."

"I've always known that colours have a great impact on me but I never got to understand how and why certain colours make me feel at peace and why I become repugnant to others. I often wonder why. I noticed this impact as a result of my obsession with a colourful wardrobe as well as the major influence they have on me when shopping.
When I first heard about 'Colour Therapy' I was amazed at how colours are used for therapy, I just couldn't wrap my head around it which made me request for a session to have an experience and also understand the concept better. Well, to cut the long story short, I got what I expected and even more. it was a great experience!
The ability for the session to help one subconsciously ease up unnecessary stress build up is what fascinates me the most.

It enabled me to take a walk down the memory lane most of which were great moments in my life and I felt like I had the chance to relive them.

I particularly like how it makes you feel afterwards and how you begin to see other colours differently as well as understand why you like or react to certain colours.

It's worth going for over and over again and worth recommending to your loved ones."

"I have always liked colour, even though I generally wear darker colours I love colour and brightness. However, I had never looked deeply into what colour can mean, do and what colours go together.
With Kaths amazing support (and I mean amazing) I have been guided through a programme of colour, and what colours mean to me. I have linked colour to memories, thoughts, feelings and my future whilst completing a 7-day activity programme. Not only did I complete the activity pack it reminded me how important it is to have you time and reflect on the day. This programme also helped me do that.
I had zoom chats with Kath and went through my pack and explained my process and journey with colour, I hadn't realised that I had linked memories and feelings with colour. I was amazing with what the programme brought out in me.
Kath went through different colours that went together and what they could do to support a person. I was overwhelmed what some of the colours made me feel and at some points i was speechless… (that doesn't happen very often).
Kath is a great person to work with prior to working with Kath I had not met her before but feel like I have known her for a long time. For me this doesn't happen for often.
I am excited for my future with colour and hope to do more colour therapy with Kath.
Thank you for your help and support."

"My friend recommended I speak to Kath about Colouricity. I'd never heard of it and was interested to know what sort of insight could be gained through someone's choice of colour. I'm bad with art and colours generally – stick to safety in black/navy/grey clothes etc. So what!

I was really surprised when my choice of colours got me thinking about things that are very sensitive, that I never speak about to anyone! Kath suggested some ideas that would help me address areas of my life that, for different reasons, I neglect. Some colours that will help me were suggested and I will embrace. I think anyone, however sceptical, will be surprised and helped by a reading from Kath. She is a lovely person and made me feel very relaxed."

"I have always been enthusiastic about readings of all kinds and never had a colour reading before, so I was extremely chuffed to receive one from Kath. I was asked to choose from a pack and Kath laid them out and we began to talk about how these cards represented things that were occurring in the present (eerily) and where directions may go in the future in the things I like to do. I found it not only interesting and insightful I was also given a few nudges creatively, one thing being a 'blue' creation which Kath said would assist with sleeping. I can definitely recommend a reading from Kath whether you believe in such arts or not (your mind might be changed… or blown ha-ha). Kath is very calm and personable and it is always interesting to have the input of a person you may not know."

"Kath did a colour reading for me, I didn't really know what to expect and have to admit was sceptical. Really, what can a colour tell you? As I drew the cards my frown grew deeper and I admitted a nervous laugh. Kath carried on the reading going further into what each colour card meant. I was amazed at how they related exactly to my emotions, my past trauma's and things that were happening right now. I was guided towards colours I needed in my life and how they will help me moving forward. The reading was so intriguing, thought provoking and emotional. I would highly recommend a colour reading by Kath."

"After my Colouricity introduction with Kath, we slipped into the space between formal and informal. The place where all colour exist and one that is entirely subtextual. Trying on the coloured glasses was a refining experience which challenged my perceptions of reality by identifying the undeniable but often unnoticed effects of colour on the visual realm of reality. Each colour change caused not only a psychological shift but a physical internal feeling along with it. We then went on to do a sighted and blind colour reading upon which I picked out several cards adorned with different coloured patterns, each of which was representative of a much greater aspect.
Definitely a memorable experience accompanied by a long lasting feeling that's hard to define. Thanks again to Kath. 10/10 would recommend."