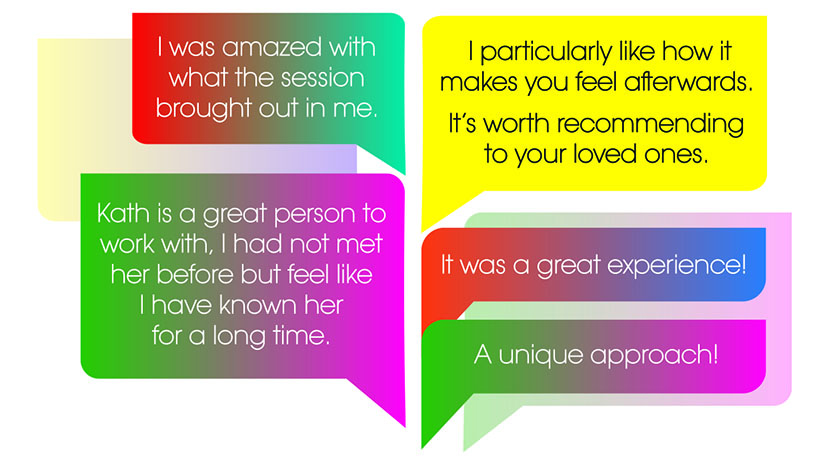 Here's what people have said after attending a Colouricity session…
'I've always known that colours have a great impact on me but I never got to understand how and why certain colors make me feel at peace and why I become repugnant to others. I often wonder why. I noticed this impact as a result of my obsession with a colourful wardrobe as well as the major influence they have on me when shopping.

When I first heard about 'Colour Therapy' I was amazed at how colours are used for therapy, I just couldn't wrap my head around it which made me request for a session to have an experience and also understand the concept better. Well, to cut the long story short, I got what I expected and even more. it was a great experience!
The ability for the session to help one subconsciously ease up unnecessary stress build up is what fascinates me the most.
It enabled me to take a walk down the memory lane most of which were great moments in my life and I felt like I had the chance to relive them.
I particularly like how it makes you feel afterwards and how you begin to see other colors differently as well as understand why you like or react to certain colours.
It's worth going for over and over again and worth recommending to your loved ones…because why not?!'
---
'I have always liked colour, even though I generally wear darker colours I love colour and brightness. However, I had never looked deeply into what colour can mean, do and what colours go together.
With Kaths amazing support (and I mean amazing) I have been guided through a programme of colour, and what colours mean to me. I have linked colour to memories, thoughts, feelings and my future whilst completing a 7-day activity programme. Not only did I complete the activity pack it reminded me how important it is to have you time and reflect on the day. This programme also helped me do that.  
I had zoom chats with Kath and went through my pack and explained my process and journey with colour, I hadn't realised that I had linked memories and feelings with colour. I was amazing with what the programme brought out in me.  
Kath went through different colours that went together and what they could do to support a person. I was overwhelmed what some of the colours made me feel and at some points i was speechless…(that doesn't happen very often).  
Kath is a great person to work with prior to working with Kath I had not met her before but feel like I have known her for a long time. For me this doesn't happen for often.  
I am excited for my future with colour and hope to do more colour therapy with Kath.  
Thank you for your help and support '